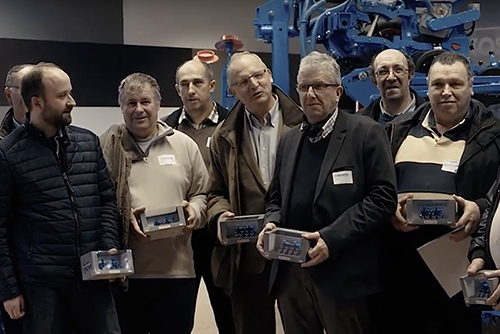 The group was treated like VIPs at the heart of the Deleplanque seed station in Villefollet and visited the Monosem factory in Largeasse where the famous planters are made.
Les agriculteurs ont été accueillis par l'équipe Deleplanque à la gare Montparnasse le 10 janvier, direction Poitiers.
Parmi eux 3 représentants de la Picardie : Christian Suin, Eric Legras et Alexis Hache – 2 champenois : Claude Pannet et Renaud Sugot – 1 normand : Grégoire Léger  – Philippe Fovez, originaire du Nord – Frédéric Jahier, planteur en Seine et Marne et enfin Xavier Dupuy et Thierry Rondeau, du Sud Paris.
L'équipe Deleplanque a tout d'abord proposé la visite de parcelles de production de semences de blé hybride, colza hybride et triticale, dans la région de Melle.
Les gagnants ont ensuite rejoint la station de semences de Villefollet pour un tour des locaux existants et la visite du site de construction de la future chaîne de triage. Lors de la présentation des activités de l'entreprise, l'accent a été mis sur la technique de production des semences de betterave sucrière, activité historique de Deleplanque.
Le lendemain, les participants ont pris la direction de Largeasse.
Hugo Crécy, responsable agroéquipements à l'ITB, a présenté des résultats d'essais sur l'effet des écartements en termes de gain de productivité.
Les betteraviers ont ensuite été pris en charge par les équipes Monosem, pour une formation pratique très complète sur l'entretien et le réglage des semoirs. L'après-midi a été consacré à la visite guidée des 2 sites de construction, depuis la fabrication des disques jusqu'à l'assemblage final des semoirs en passant par les nombreux contrôles qualité. Beaucoup de curiosité et de questions de la part des visiteurs, dont aucun n'avait encore eu la chance de vivre cette expérience.
Ce séjour technique marquait la clôture de la 1re étape de l'Année du Semis, fruit d'un partenariat inédit entre le semencier Deleplanque et le spécialiste des semoirs Monosem.
L'opération se poursuit avec aujourd'hui la nomination des 2 planteurs, gagnant chacun jusqu'à 50 ha de semis avec un semoir Monosem équipé nouvelles technologies.
Le concours Le Betteravier de l'Année, dont les candidatures sont encore ouvertes jusqu'au 18 février, constitue le dernier volet de cette trilogie « semis ». La cérémonie de remise des prix, prévue le 25 mai à Paris, sera l'occasion d'exposer à la filière Betterave-Sucre toutes les données et expériences acquises au cours de ces nombreux événements.
More news
14-06-18
On Friday 25 May, all the sugar-industry players were gathered around the 10 finalists of the contest, in the lush premises of the Pré Catelan, nestled in the heart of the Bois de Boulogne.
25-01-18
This new offering is part of the Deleplanque partnership with the German breeder Strube.